Building/Planning/Permits
The Vac-Alert VA2000 is listed (014545) with Applied Research Laboratories (ARL) and met or exceeded the ASME/ANSI 112.19.17 Manufactured Safety Vacuum Release System (SVRS) for residential commercial swimming pool, spa, hot tub, and wading pool suction systems.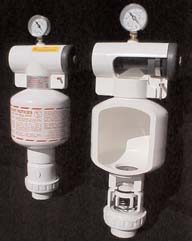 ARL 2011 Vac-Alert SVRS Test Results (PDF Document)
Dual Drain and Vent Pipe Limitations (PDF Document)
ASME/ANSI Report (PDF Document)
UL Test Results (PDF Document)
IAPMO Test Results (PDF Document)
Vac-Alert's VA-2000 complies with ASME/ANSI A112.19.17 as required by the International Building Codes (IBC) and the International Residential Codes (IRC)
The International Code Council's International Building Codes and International Residential Codes, as well as the Consumer Product Safety Commission's Guidelines, include language on the use of Safety Vacuum Release Systems.
The American National Standards Institute (ANSI) is an agency that "accredits" standards promulgators such as ASME, ASTM & NSPI. This is the national system for insuring that standards development organizations follow strict procedures and maintain a true consensus process.
International Code Council (ICC) – The ICC was established in 1994 as a non profit organization dedicated to the development of a single set of comprehensively nationally recognized construction codes.
The International Building Code (IBC) and the International Residential Code (IRC) both mandate "three layers of protection." IBC 3109.5 and IRC AG 106 require all pools and spas (regardless of water depth) to be equipped with an accepted method for vacuum relief. These codes call for devises that meet ASME A112.19.17 standards to provide this vacuum relief. The vast majority of state and local governments utilize the IBC and the IRC codes as models for their own codes.
Consumer Product Safety Commission (CPSC) – The CPSC published Guidelines for Entrapment Hazards: Making Pools and Spas Safer in March 2005. Included in the recommendations is the use of SVRSs for newly constructed pools and existing pools……………
"Due to care and maintenance concerns associated with circulation systems that include suction outlets (main drains) and covers, consideration should be given to the installation of a back-up systems that relieves entrapping suction and/or shuts down the pump when a blockage is detected [ e.g., an SVRS]………"
Temperature Warnings on the VA-2000
The Model VA-2000 meets or exceeds the -40F to 140F temperature performance testing set by the ASME/ANSI A112.19.17 Standard for Manufacturing.
Safety Vacuum Release Systems. We strongly suggest that the VA2000 not be left in below freezing temperatures where the circulation system is not continually running or not protected by a pump house. In such cases, condensation could freeze piping and ice may impair or disable the safety features of the VA-2000. For installations that require winterization, the Model VA-2000 should be removed and stored , and then re-installed upon system start-up.
International Building Code
Chapter 31, Special Construction – IBC 3109.5
Entrapment Avoidance
3109.5 Entrapment avoidance. Suction outlets shall be designed to produce circulation throughout the pool or spa. Single-outlet systems, such as automatic vacuum cleaner systems, or other such multiple suction outlets whether isolated by valves or otherwise shall be protected against user entrapment.
Sections 3109.5.1 through 3109.5.4 Add new sections to read as follows: (G146-03/04)
3109.5.1 Suction fittings. All pool and spa suction outlets shall be provided with a cover that conforms to ANSI/ASME A112.19.8M, or a 12″ x 12″ drain grate or larger, or an approved channel drain system. Exception: Surface skimmers
3109.5.2 Atmospheric vacuum relief system required. All pool and spa single or multiple outlet circulation systems shall be equipped with an atmospheric vacuum relief should grate covers located therein become missing or broken. Such vacuum relief systems shall include at least one approved or engineered method of the type specified herein, as follows:
1. Safety vacuum release systems conforming to ANSI/ASME A112.19.17, or
2. Approved gravity drainage system.
3109.5.3 Dual drain separation. Single or multiple pump circulation systems shall be provided with a minimum of two suction outlets of the approved type. A minimum horizontal or vertical distance of 3 feet shall separate such outlets. These suction outlets shall be piped so that water is drawn through them simultaneously through a vacuumrelief- protected line to the pump or pumps.
3109.5.4 Pool cleaner fittings. Where provided, vacuum or pressure cleaner fitting(s) shall be located in an accessible position(s) at least 6 inches and not greater than 12 inches below the minimum operational water level or as an attachment to the skimmer(s).